Craving a bowl of ramen soup? This simple yet satisfying recipe will hit the spot | Arts And Culture
During the summer 2021, my husband and I dropped by Thistle and Mirth to grab a bite before heading to a show at Barrington Stage Company. There, I dined on a bowl of chashu pork belly ramen and instantly fell in love with its deep umami flavor. 
I had never had ramen made this way. My experience, prior to this, had been the college staples of Cup Noodles  and packets of chicken flavor Maruchan Ramen Noodle Soup or Nissin Top Ramen. It seems silly to me now that I hadn't had a real bowl of ramen soup until last summer, but I guess I haven't had much opportunity to try it, or when I did, I was more interested in other options available. (I'm ashamed to say that I have yet to make it to Steam Noodle in Great Barrington. But it's on the list for when I'm in Great Barrington.)
Fast forward a year, and it had yet to occur to me that I could make my own ramen soup at home. That's until my CSA suggested a recipe for a quick homemade ramen soup as a way to use up the bunches of kale included in that week's share. I immediately opened the link and was soon making my own version. 
This recipe is just what it says it is: quick and homemade. It's a simple dish, made with packaged ramen noodles, a prepared broth and fresh vegetables. What I love about it is that allows me to use what I have on hand. I've swapped out the kale for spinach or bok choy, or used a combination of all three. I've topped it with toasted panko crumbs, soft boiled eggs and, once, with all fresh pea shoots. Most recently, I replaced the shitake mushrooms with slices of chicken breast. In keeping with the idea that this is a quick dish, I opted to use a 9-ounce bag of pre-cooked Perdue Short Cuts Carved Chicken Breasts. Feel free to switch to a beef, bone or veggie broth and add in pork or beef. 
The original recipe calls for shitake mushrooms, which add flavor the broth. It also says not to use the seasoning packets that come with the ramen. If you use Maruchan or Nissin ramen packets, I suggest keeping to the original recipe and using the shitake mushrooms for flavor (if you don't like mushrooms, remove them before adding the rest of the ingredients.) I favor using Sapporo Ichiban Original Ramen Noodle Soup and use the seasoning packets that come in the package instead of the mushrooms. I also opt to use Good & Gather Ramen Soup Starter Chicken Broth, which has hints of ginger, tamari and mushrooms, instead of plain chicken broth. 
QUICK HOMEMADE RAMEN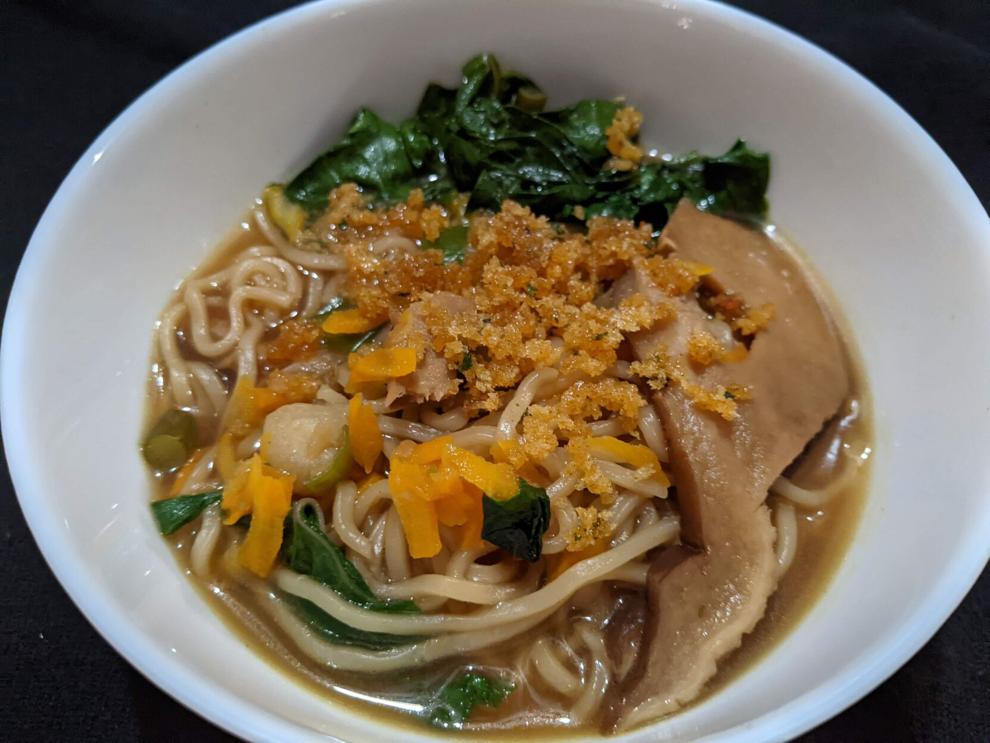 (Recipe adapted from pinchofyum.com)
Yield: 6 one-cup servings
INGREDIENTS
1 tablespoon sesame oil
3 teaspoons grated ginger (or Spice World Squeeze Ginger)
4 teaspoons grated garlic (or Spice World Squeeze Garlic) 
4 cups broth (I used a ramen chicken broth soup starter, but vegetable or beef broth works)
4 cups water or broth
1 ounce dried shiitake mushrooms
9 ounces Perdue Short Cuts Carved Chicken Breasts
2 packages instant ramen
1/2 cup chopped scallions or chives
2 cups chopped kale, spinach or bok choy (or a combination) 
1 cup shredded carrots
Optional: Top with a soft-boiled egg'; crunchy golden panko crumbs. Flavor with Sriracha, soy sauce, chili oil or sesame oil. 
DIRECTIONS
Heat the sesame oil over medium low heat in a stockpot or Dutch oven. Add the garlic and ginger; stir fry for 2 minutes or until soft and fragrant.
Add the broth and the water. Bring to a simmer; add the mushrooms (chicken and seasoning packets, if using) and simmer for 10 minutes or until the mushrooms have softened and the broth is flavorful. If desired, remove mushrooms. 
Add the instant noodles to the hot liquid and simmer for an additional 5 minutes or until the noodles have softened. Add the scallions and stir to combine.
Remove from heat, stir in the kale and carrots, and top with crunchy panko crumbs and a soft-boiled egg, if desired. Season with chili oil, hot sauce, sesame oil, and/or soy sauce and salt to taste.
To make crunchy panko topping: Heat a few tablespoons of oil in a large skillet over medium heat. Add the panko, stir for one minute or less, or until golden brown. Remove and place on paper towels to drain. You can also toss the panko with a little oil and toast them in the oven to get them golden and crispy.